Known as one of the best alpinists of his generation, Manu Pellissier had energetically and skillfully climbed all over the world trying to create a basis for a new alpinism way.
Manu has to his credit numerous expeditions in Aconcagua (ascent of the French route on the south face, TD/3000m in 1994), Patagonia (Saint Exupéry, first ascent of "le petit prince", 6b, A4/700m in 1995), Alaska (first ascent of "tolerance pillar" on Mount Wake in 1996), India (first ascent of south face of Arwa Tower, 6325m in 2002), Patagonia (San Lorenzo, first ascent of a gully on hombre norte in 2005), Spitzberg (2008), Antartica (2009), India (second ascent of Mukut Parbat east 7130m in 2009), Canada (first ascent of north east pillar of Mount Augusta - TD,1300m in 2009), Iran (Bisotun wall, first ascent of "Persian cat" - 7a/1000m in 2010), Baffin Island expedition "young explorers" on the boat Pangea with Mike Horn (2011), Iran (Bisotun wall, first ascent of "golden spatula" - 1000m/6c, attempt on Alam Kuh North Face in 2012), Albania (new route on the Tamare wall with 4 teenagers of the association "Gai Logis", realization of the movie "Nik Tamare" in 2012), Iran (ascent of Damavand - 6683m in 2017) or Canada (attempt on mount logan, first ascents in saint elias range in 2017).
In 2015, Manu has been awarded by a "Piolet d'Or" for the first ascent of the east face of Cerro Kishtwar in India (6193m, ED+/1200m).
UIAGM certified mountain guide since 1999, Manu is also a brilliant skier, a real yoga addict and also a slackline and highline serious practitioner.
Great explorer (member of the French Explorer Society), Pierre Muller has to his credit numerous expeditions in Central Asia, Svalbard, Greenland, Antarctica, Patagonia and Himalayas.
Pierre climbed a large number of walls in the Alps (North face of the Eiger and the Matterhorn in winter) but also in Madagascar, Sahara, Pakistan and Yosemite.
Excellent skier, Pierre is Salomon ambassador, being responsable for ensuring the safety for free ride competitions or movies in the Alps, in Caucasus and in the Arctic.
During his expeditions Pierre also participated in the shooting of adventures films rewarded at various festivals. (Darwin the secret cordillera, Defit Baikal, Trango, Madagasikara, Hoggar)
Pierre also worked during 15 years as a doctor in the French Alpin Rescue Team with the Gendarmerie in Briançon (South Alps), during that time he was involved in more then 500 rescue operations.
Sam Beaugey, aka SBO or Boguets, is a high mountain guide of the Compagnie des guides de Chamonix, a BASE jumper, a skier on steep slopes, a mountaineer specializing in artificial climbing including capsule style, ice climbing and dry tooling.
Sam was born into a mountain family with a mother who was a hut keeper and ski instructor, a high mountain guide father and a brother who is a paragliding instructor.
In 1995, he completed the first ski descent of the Shroud at Grandes Jorasses.
in 2005 he set up a new route in 18 days on Trango Pulpit with Martial Dumas Jean-Yves Fredriksen and Yann Mimet and jump off with wingsuit at 6000m
In November 2009, he participates in the first known expedition of BASE jump in Antarctica with Géraldine Fasnacht, Sebastien Collomb-Gros and Manu Pellissier in the Holtanna massif. The film, Holtanna, the Antarctic Adventure, edited by Puzzle Media is based on this expedition.
Ils n'ont peur de rien, et surtout pas de leurs rêves. La vie a glissé sous leurs pieds le plus grand tapis de jeu du monde, le Mont-Blanc, et les gosses de Chamonix se payent du bon temps. À coups de descentes, de sauts, de cavales et de vols en tous genres, ils tirent sur la corde et réinventent chaque jour la partie : base jump, alpinisme acrobatique, ski de pente raide... Ils ne prennent rien au sérieux. Sauf l'amitié qu'ils placent plus haut que les montagnes.
Sam Beaugey, qui fait partie de la bande, nous introduit, au rythme cadencé d'AC/DC et de Noir Désir, dans le monde déjanté d'une génération rompue à tous les excès. C'est cru, c'est raide et ça sonne juste! Ce livre est une ode à la liberté, à l'amitié et à la passion.
Un pur moment de rock'n'roll!
Marko Prezelj is a Slovenian mountaineer and photographer.
Marko received four Piolet d'Or awards. He won the inaugural "Oscar of mountaineering" in 1992 with Andrej Štremfelj for their new route on the south ridge of Kangchenjunga South (8476) in alpine style. The second he received in 2007 with Boris Lorenčič, for the first ascent of Chomolhari's northwest pillar in October 2006.
In 2014 he received his third Piolet d'Or together with Aleš Česen and Luka Lindič for their first ascent of the north face of Hagshu in the Indian Himalaya. In 2016 he won his fourth Piolet d'Or.
Marko has a degree in Chemical Engineering and is a IFMGA/UIAGM mountain guide and climbing instructor. He is married and has two sons.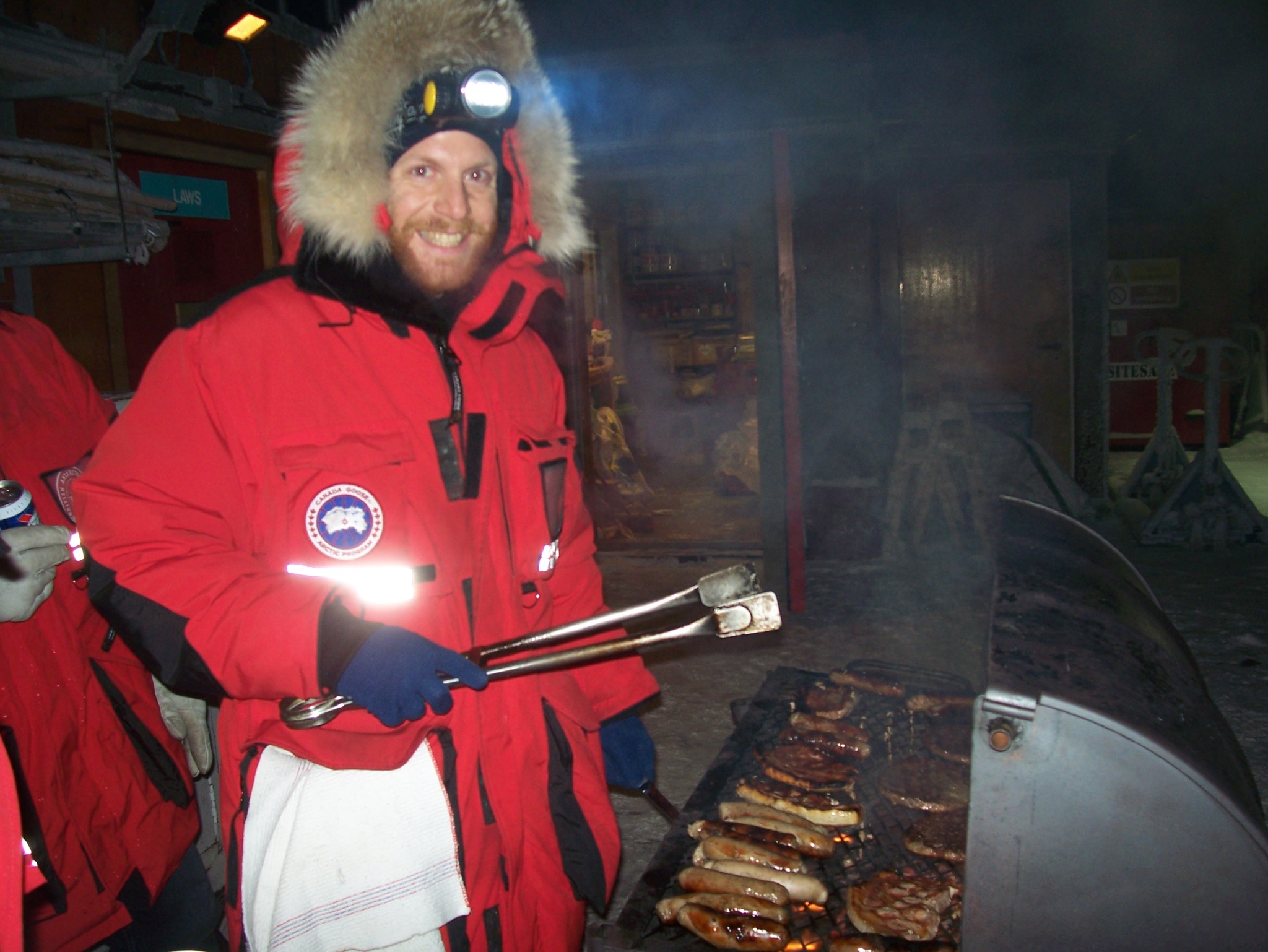 Antony is a chef with 24 years experience. Half of his career he worked as a baker, before branching out into restaurants, hotels and as Head Chef for a large pharmaceutical company. Antony has a vast knowledge in cooking fine and exquisite food, with the very best ingredients and an unlimited budget to cooking halfway up a mountain on a Primus stove.
Antony contracts are purposefully selected for their cooking skills and abilities as well as their location. This way he never deskills on other contracts - Mountains, super yacht in Italy, private chef on Jura, where the cooking is all very different!
Antony has had the pleasure of cooking for David Beckham, Antony Worrall Thompson, Richard Parks, Nicola Phillips - Commonwealth Games Team Boss for Wales, Borge Ousland, King, Queen, Prince and Princess of Norway, Antony Worrall Thompson, Jean-Pierre Garnier - Chief Executive of GSK and on the estate owned by "Biffa Bins". Antony has successfully completed 3 x 18 month over wintering contracts in Antarctica where he was awarded twice, by the Director of BAS for "Making a Positive Difference" to their Antarctic season and subsequent re-employment for future contracts.
Antony has cooked on many expeditions in Antarctica, Pakistan, Himalayas, Africa, South Georgia, Svalbard and Norway. Antony Antarctic experience alone, if the months were all added together, amounts to over 5.5 years of expeditions on the icy continent.
Antony was also the chef involved with the Rat and Reindeer project in South Georgia, flying around the island in helicopters, putting up very remote basecamps, for staff to eat and sleep in.
Antony holds a BOSIET and MIST sea survival and helicopter escape certificate for his employment on the oil rigs.

Ex-Google Head of Creative Strategy, Yann is the founding partner of Kretz + Partners, a design studio. Kretz + Partners creates experiences that blur the lines between physical/digital, products/services, strategy/execution, or functional/emotional worlds.
2nd European climbing champion (Chamonix - 1988), Yann started climbing 30 years ago and did his first climbing competitions alongside with Sam Beaugey.
Yann has got a Master degree in Marketing from ESCP Europe Business School.